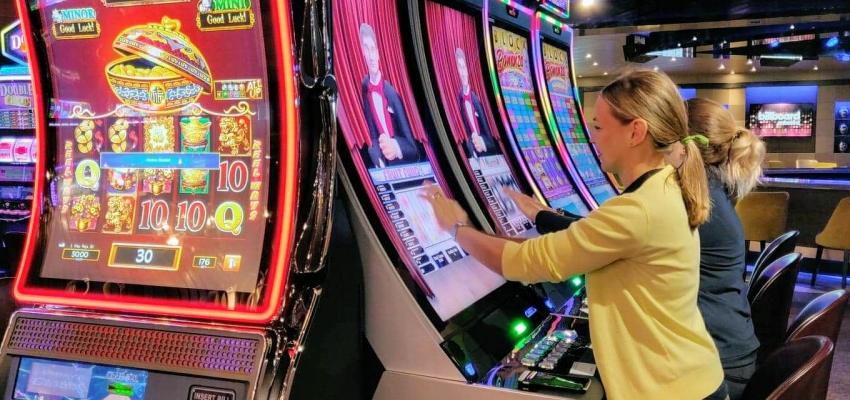 Julia Kashpur chats to Casino Life Ukraine editor Lyudmyla Kyrychenko
How the pursuit of a dream, effective teamwork in a cruise liner, empathy for colleagues, grit and determination with the ability to exceed expectations daily for both customers and managers, enabled Casino Hostess Julia Kasphur to build a sensational career.
She explores personal qualities that enable success in this industry, what lessons are to be learned from lockdown restrictions, and what can be the most desirable souvenir from long voyages.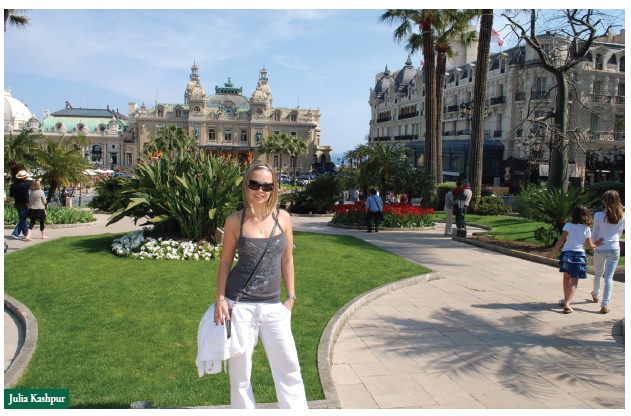 We are grateful for your generosity to answer our questions. When and how did you first become interested in the Casino industry?
Oh, nothing at all, happy to do it. It's my first time doing this, so I have to thank you for a great experience!
I've actually never planned for it or been inside the casino in Ukraine, if you'll believe me!
I remember refusing the job in Freedom Casino here in Kyiv even as a waitress – didn't like the vibe, it was very different for me during that time. I didn't know anything about casino industry and what it was all about.
I remember when they called for a fitting and showed me this long evening gown dress as a part of my uniform, it was all glittery and golden, really beautiful actually. But I had that strange feeling I didn't belong there, so couldn't do it.
And then after couple of years, I joined Carnival Cruise Lines, in 2005, and learned about working in a Casino, my career started there and continued for the last 15 years.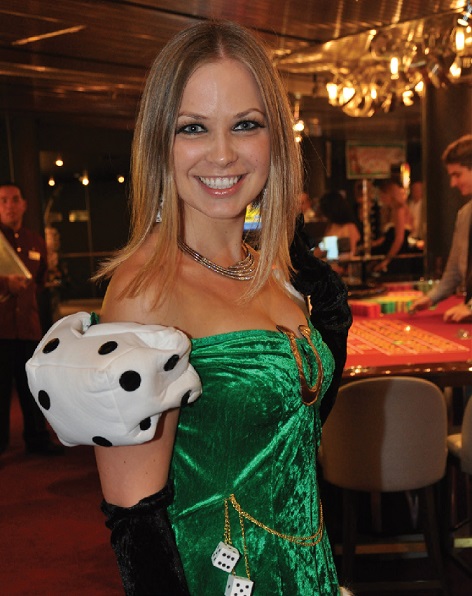 Have you always enjoyed travel?
Yes, the opportunity to travel and explore our world is one of the best things that happened to me in my life.
I left my home at 17 years old when I moved in Kyiv, to enter the university, and even before that always I knew I would travel far away. I grew up in the small town on Dnieper river (Horishni Plavni/Poltava region) and couldn't wait to graduate from the school to start this big journey of mine. And today when saying: "I've been to Antarctica 3 times" I can hardly believe myself!
What is involved with your most recent role?
Being Casino Hostess involves a lot of interaction and socializing with the patrons/ guests when on the casino floor. Also, this role includes planning, communicating, marketing of the events when operating on the daily basis. Casino experience for patrons onboard the cruise ship is quite different from the land-based casinos - I would say. Here onboard we focus a lot on entertaining and interacting with our guests – therefore we offer classes, tournaments, raffles, promotions, theme parties etc. Lots of times it's coordinated with other departments or the whole ship itself. It's really fun but takes a lot of my time to organize (smiling)!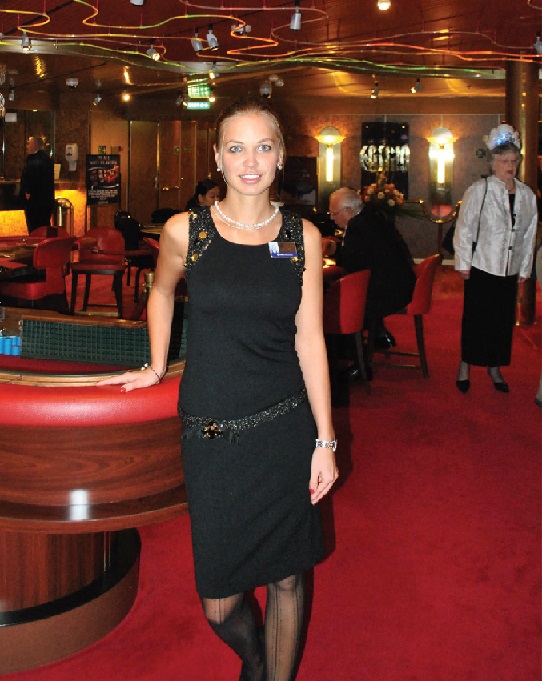 How do you see that mix of skill and experience gained from that role combined with your time at Carnival Cruise Lines that you can bring to an organisation in the Gaming, Leisure Entertainment and related Sectors?
Well, it's a great opportunity and quite an experience to be a team member of any department onboard the cruise ship. Besides your own job (and you've got to be really good at it!), there is a chance to see and learn from others too.
As it's very close environment - all the crew works, live and socialize together. There is a huge chance your friends will be from various departments – from Dancers to the Bridge officers. And it's hard to imagine how much knowledge and skills you are gaining when simply hanging out or having just lunch together.
Being part of the Casino department I think the greatest experience I've learnt is that in our business we are there for our guests/patrons, to exceed their expectations and deliver them the best experience. There is no point to have the best slot machines or beautiful tables with games if we have no players.
What are some of the unexpected challenges you encountered upon commencing the role of Casino Host?
It's funny, but I really had to think about the answer here. The thing is that if you would ask me this question in 2010 when I was first promoted to the full position of Casino Host I would probably take few pages to tell about these challenges. But facing them for quite some time you simply learn to deal with them and they are becoming part of the routine at some point. But I've just remembered one of them – and it's funny!
As I said before, role of Casino Host includes a lot of coordination and interaction with partners from other departments as well. So once a week I had to film the Morning Show with Cruise Director onboard for our guests. We were co-hosting the show and he has ensured that they would cut and edit it before going on air. The Cruise Director was very good friend of mine by the way, so we had so much laugh and fun when filming. And imagine, it goes on air totally raw as it was, no editing whatsoever. I think all the guests onboard came to casino that day, I was so embarrassed that time. Now I think it was the best challenge out of casino floor in my career!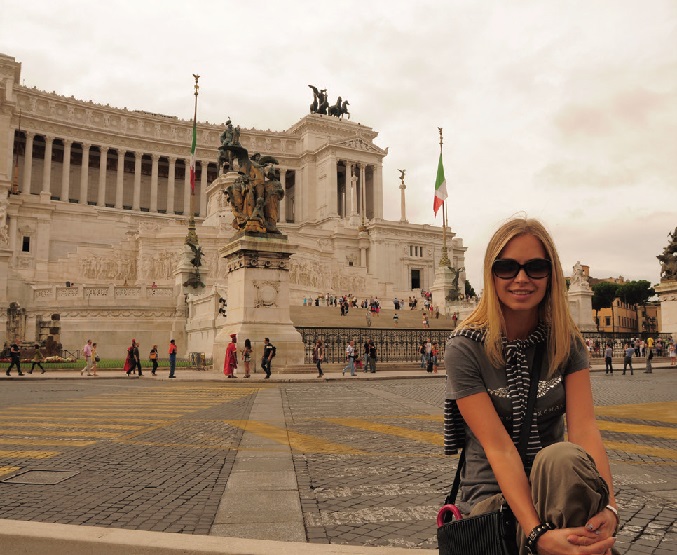 For those in Ukraine that read your interview and are considering a career in the Casino industry what advice would you give them?
First thing I would suggest to visit few really nice casino properties. It might be quite difficult today, considering the pandemic situation in the world. But I wish I had more idea about casinos when starting the career. There are amazing properties, very beautiful and tasteful, with great culture and atmosphere!
Also try to find some people who work in this business preferably in the same area or country to ask as many questions as you need.
Overall, it's a very interesting job, a bit glamorous even and usually well-paid especially when you are gaining skills and experience.
What do you think are the characteristics of a good Croupier and Dealer?
Casino Dealer/Croupier job includes two equally important sets of skill as for me. You really can't be a good dealer without great technical skills, we work with hands and fingers a lot. So, if you are in training school now or planning, please, take it extremely seriously. It's very hard at the beginning like playing a musical instrument for the first time, but later it will all pay off guaranteed.
And of course, there are some soft skills required – especially interacting with players, tolerance, nice manners, sense of humour, flexibility, good hygiene and punctuality big time. If you can't be on time when on duty you have no chance in this career. I still look at the watch when having lunch (30 minutes break) after 1 year out of the job at home.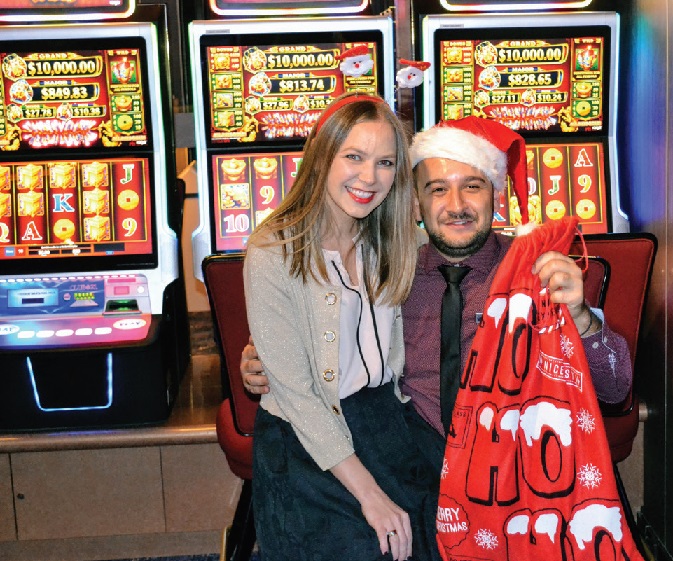 What are amongst your prime objectives in your consideration for your next career move?
In my case, it depends a lot on the location. If speaking about the cruises and the ships, I am really happy where I am right now. I tend to enjoy the Groups/VIP charters side of my job right now. But the main reason I've just got many good friends amongst the loyal players and special Gambling groups/cruises are the bigger chance to see them all again in one place.
But also looking at the last and this years' developments, I would not mind to gain some more experience in the online gambling sector. I thought it would take longer for casino business to migrate online mostly but it is on our door step already.
From a purely business perspective what lessons have you learnt from your experiences since this pandemic hit?
You need to adapt very fast, be extremely flexible and visualising the future when making business strategy decisions.
What was your first big break in the industry?
My first big break was in summer 2010 onboard of brand-new Nieuw Amsterdam (Holland America Cruises). I was just a trainee Host when my Fleet Casino Host and the Operations Manager came onboard to shoot some Advertising Material and I ended up on those photos. They became part of the digital signage for all the ships and some printed brochures for the mailers to the players. I also got fully promoted from Dealer to Casino Hostess that year!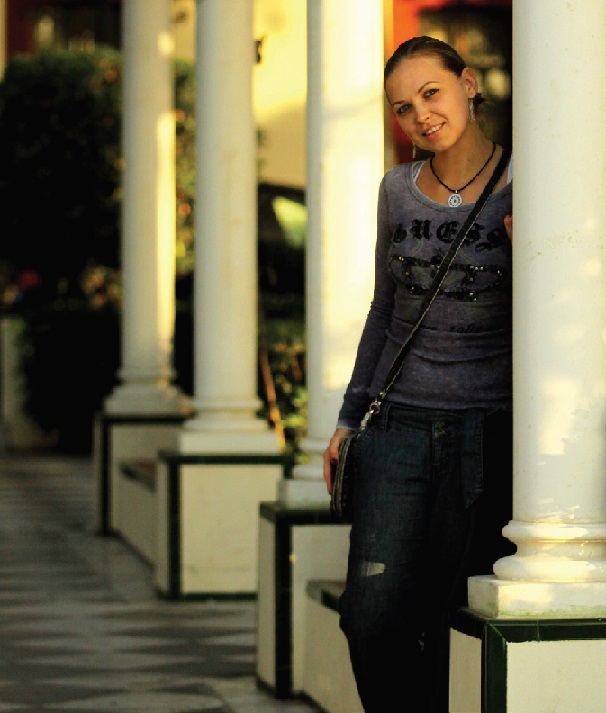 Looking back over your career what are some of your achievements that you are most proud of?
I am most proud of my colleagues, professional and amazing hosts which I've discovered among the casino employees and trained for their next career step. It feels extremely rewarding to me to help someone to grow and achieve greater results when there is an opportunity!
What are those experiences, key-values that you gained at your past workplaces and can use in a new role?
As a Casino Hostess I've learned a lot about business operation and not only particularly casino, any kind like shops, spa, restaurant, bars. My greatest skill is learning how to exceed the expectations from both sides of it – Patrons/Players and the Management/Owner. Your customers should be happy and your business should be profitable – and in the casino these two objectives are moving opposite directions.
Also working onboard includes constant change of fellow staff members, management, guests and location itself. You need to adapt quickly and be ok with changes and movements all the time. It teaches you to be more tolerant, understanding, compassionate to other people. Add to this the culture and beliefs of 40+ nationalities onboard – respect and acceptance are must in here.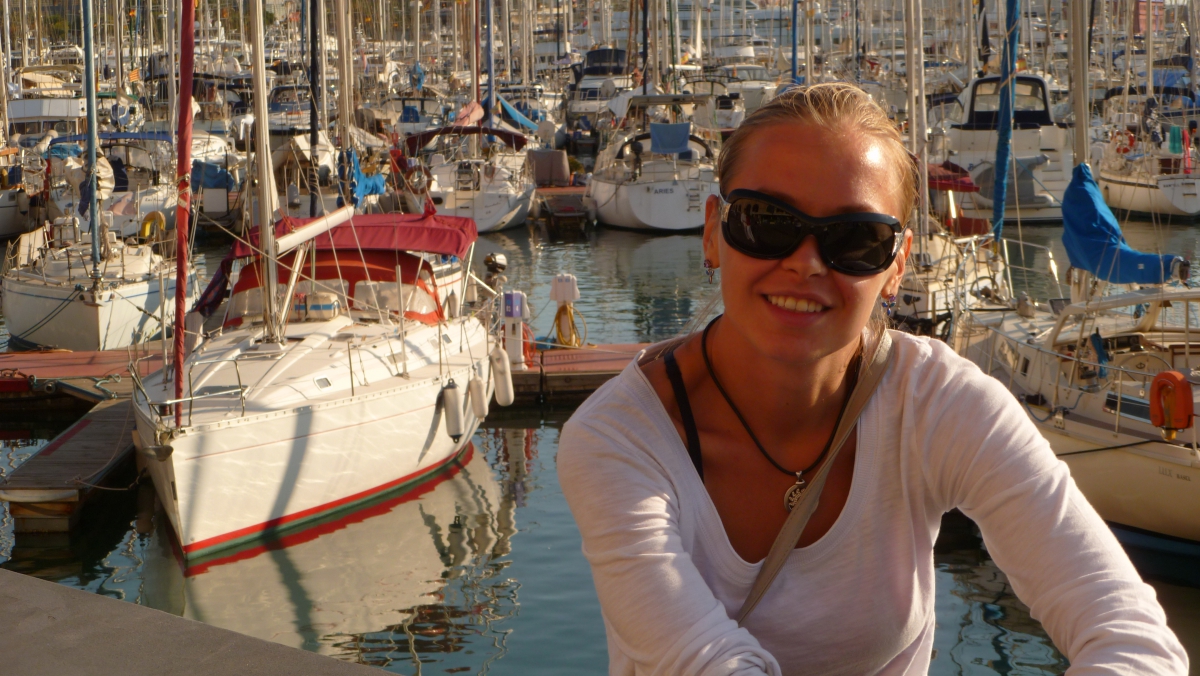 How do you cope with the hours?
Hours are long indeed, and late. I think you just get used to this lifestyle, that's all. Some people really like to wake up early in the morning to feel productive. Not about me, though. It doesn't matter what time I finish work or wake up - just trying to make the best out of my active period of the day. And now when I am a mum of 3 years old boy, my day is suddenly much longer than ever! (laughing)
Who and What inspires you and why?
Great question! I am generally easy to be inspired by many people and things.
I am mostly touched by people who despite huge success or achievement stay humble, humane and enjoy their life at the fullest.
I dream to meet and talk to Oprah or Michelle Obama one day or have a coffee with Vera Bregneva (Ukrainian singer)!
When not at work how do you relax?
I love sports and recently discovered dancing again. Also, any beach on this planet is my little paradise to relax and just get closer to the nature. When not beach, hiking serves the same purpose.
At our house my favourite chores are to organise the closet, cabinets or drawers. This is my sort of meditation.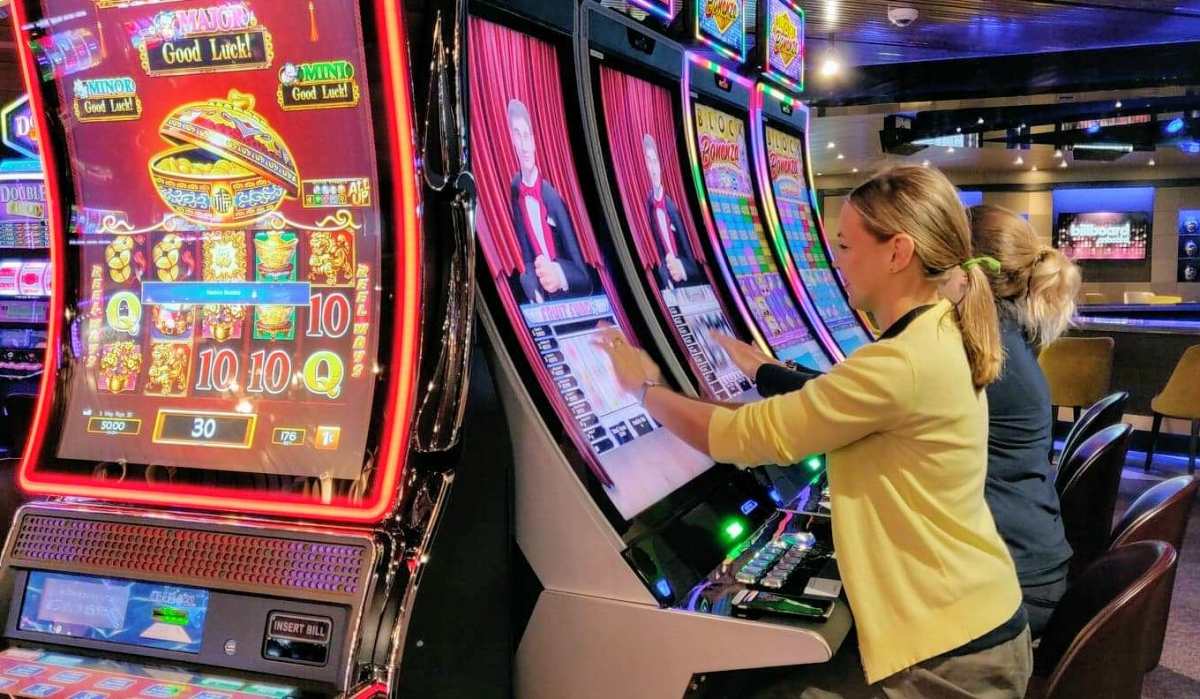 What are your long term ambitions?
Career wise, my ambition is to have Casino Training school one day. I am coming from the teachers' family so guess it's in my genes. It would be an amazing opportunity to share my knowledge with others and give them an easier start in this interesting and exciting business.
Have you anything else you would like to add?
Finally! I thought you would never ask (smile and wink)!
Additionally, to all those travelling and working experiences onboard the ships during last 15 years my job in the Casino gave me something more I feel the most blessed and grateful – my beautiful family! I met my husband who was Casino Manager onboard in 2013, don't ask me how and why, it just happened we fell in love with each other. So, we have had the opportunity to work and travel together since then.
And in 2017 upon arrival home from another contract on-board of Koningsdam we've discovered that we were expecting. Our baby boy Luca is 3,5 years now and is the greatest souvenir from all of the travels around the world!