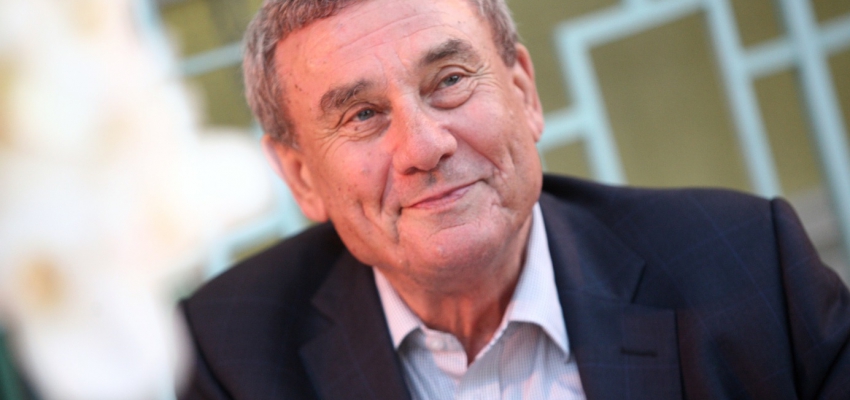 Sadly, Sir Solomon "Sol" Kerzner (1935-2020), "The Sun King", passed away from cancer on March 21st 2020 at the age of 84, at his Leeukoppie Estate in Cape Town, South Africa. By: Niall Murray
Sol Kerzner was born on 23rd of August 1935 in Doornfontein, a modest suburb of Johannesburg, South Africa. Born to immigrant Jewish parents Morris and Bertha Kerzner from Lithuania, Sol was the youngest of four children, and the only son. He had many varied interests growing up. At 12 years of age Sol played in the Johannesburg Symphony Orchestra and had a great love and appreciation of music. Being of slight build, he was bullied as a young man. So, Sol took up boxing to defend himself. He became quite an accomplished boxer, and later a Welterweight Champion at Witwatersrand University. At first, Sol wanted to be a motor mechanic, but as his grades improved at Damelin College, after completing his service in the South African Army, and with encouragement from his father, he decided to do a "CA at Wits." Sol Kerzner graduated with a Bachelor of Commerce (Honours) Degree in Accounting from the University of Witwatersrand and as a qualified Chartered Accountant. Upon graduation Sol worked at one of Durban's largest accounting firms, where he was named junior partner at the age of 25.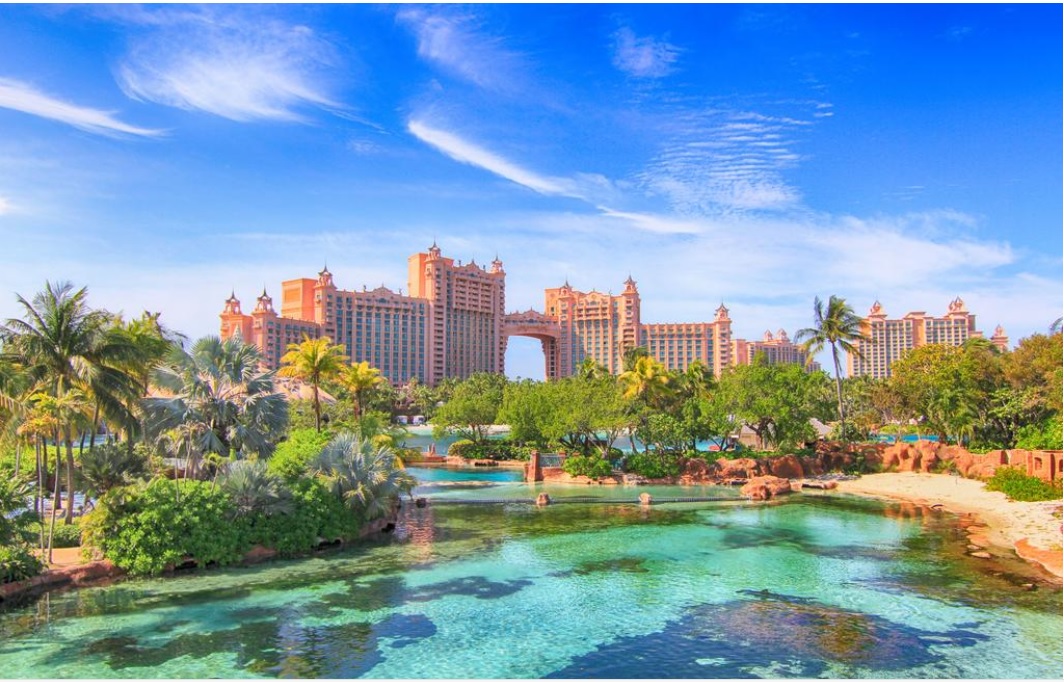 His parents worked hard selling fruit and vegetables, and in time saved enough money to purchase a 15-room Kosher Guesthouse, the "Monorah" in Durban. Sol began working at the guesthouse, and soon after took over his family's small hotel business. He jumped  in with both feet, and was never afraid to get his hands dirty. He often did whatever was necessary to ensure that the operation ran smoothly and regularly played the role of barman and bouncer to rowdy locals like Nick the Greek and Harry the Horse, when his parents later bought the licensed Palace Hotel. Sol's interest in the hotel business began at his parents' hotels, and it is there where he gained exposure, accumulated knowledge, skills and experience and made up his mind to pursue a career in the hotel industry.
Sol purchased his first hotel, the Astra in Durban in 1962, turned the business around and made it a great success. As a result, Sol decided to build another hotel. So, in December 1964, at the age of 29, he opened the Beverly Hills Hotel, South Africa's first 5 Star Hotel at Umhlanga Rocks, in sugarcane fields next to the small fishing village, North of Durban. Sol's vision was based on his belief in the future of South African Tourism, his instincts, experience and reviewing international hotel publications. Prior to opening, Sol visited the USA and toured the top Hotels in New York and Florida. Following this whirlwind tour, Sol returned to the Beverly Hills, convinced that his vision was correct, decided not to change anything and proceeded to open the hotel as originally planned. Many critics said that Sol's Beverly Hills Hotel was too elaborate, too expensive, too extravagant and would not be supported by South Africans. To the contrary, it was a huge success and some of the first visitors that flocked to the hotel included international jet-setters and movie stars. The Beverly Hills became the initial foundation and template upon which to build Sol Kerzner's hotel empire.
Following the Beverly Hills, Sol partnered with South African Breweries (SAB) to establish the Southern Sun Hotel Chain. Together they built the 450 room Elangeni Hotel (now Southern Sun Elangani & Maharani) on Durban's beachfront in 1969. Over the coming years Sol became known as the "Sun King" as he actualised his hotel industry vision, with passion and soul, and with a succession of Southern Sun Hotels. Due to strict apartheid gaming laws in South Africa, Southern Sun began to seek development opportunities in other African countries and overseas. In 1972, they built the Five-Star Chobe Game Lodge in Botswana. In 1975, Southern Sun opened its first overseas Hotel Le Saint Geran, on the Island of Mauritius, which proved highly successful. By 1983 the Southern Sun Hotel Chain operated 30 luxury hotels, with over 7,000 rooms.
One of Sol's biggest accomplishments began in 1978 when he took a helicopter trip over the Pilanesberg, in South Africa and saw the dormant volcanic land and envisioned what would become Sun City. In 1979, once a gaming licence was negotiated and approved by the tribal council of Bophuthatswana, Southern Sun's, "pleasure paradise in the Pilanesberg" and most ambitious resort in Africa, Sun City commenced. Every element of Sun City was built with exacting attention to detail. On the opening weekend 15,000 people swarmed the extraordinary resort that encapsulated a hedonistic spirit of glamour, escapism and decadence and which injected real imagination into South Africa's hospitality industry for the first time. Sun City pushed the boundaries and strove to constantly exceed over-indulged guests wildest expectations. Over the next 10 years, Sun City grew to four hotels, two Gary Player 18-hole championship golf courses, two man-made lakes for watersports, Africa's first mono-rail (the Skytrain), an entertainment centre, and a 6,000 seat indoor multi-purpose arena. Despite boycotts, Sol brought many superstars to this arena to Queen, Elton John, Ray Charles, Frank Sinatra, Dolly Parton, Eric Clapton, Sting, Liberace, Lisa Minnelli, Rod Stewart, the Beach Boys, Shirley Bassey, Linda Ronstadt and in 1985, the Artists Against Apartheid, plus, a number of Boxing World Title fights. Sun City grew to be the entertainment epicentre of South Africa and to be one of the most popular destinations in the world. It became the new and improved template that Sol used to develop his iconic hotels and resort destinations throughout the globe.
Sol suffered a near fatal heart attack in 1980, rumoured to have been triggered by his explosive temper and partying. But Sol returned to work within two weeks to plan new projects.
In 1983, Sol Kerzner left Southern Sun Hotels to form Sun International. Sun City was one of a number of assets Sol took with him in the deal. Sun International went public on the Johannesburg stock exchange in 1984 to raise capital. He then went on to build the Five-Star Cascades Hotel at Sun City. That year, Sun International opened Lesotho Sun in Basotho Kingdom. As gaming licences opened up around Africa, expansion continued with the opening of Morula Sun, Fish River Sun and Naledi Sun in 1989. Kalahari Sands opened in Namibia in 1990, followed by Carousel Casino in 1991.
Sol next turned his attention to creating a "lost paradise in the Pilanesberg", the Palace of the Lost City, a 338 room luxury hotel, set in 23 hectares of exotic jungle, designed to inspire the mystery of a lost civilisation. The hotel was an architectural wonder, with a palatial interior, full of beautiful African art, furniture, and hand painted ceilings. The Lost City landscaping alone took 28 months to complete, with over 3,000 plant species from around the world, surrounded by lush walking trails and dotted with hide-aways for guests to explore and enjoy. The Palace of the Lost City opened for business in December 1992 to great success.
In 1994, Sol acquired the 1,500 room Paradise Island Resort in the Bahamas, for US$125 million, which was in bankruptcy. Sol's major re-development and expansion transformed the property into a luxury, 2,300 room property, with one of the worlds largest man-made themed water parks (60 hectares) and the Caribbean's largest casino. After re-development, the property became the largest employer in the Bahamas, increasing its staff from 3,000 to 6,000 upon completion. Paradise Island was renamed "Atlantis" in 1998, and a new brand was born.
Sol's attention to detail was legendary, not only in relation to the hard architectural and physical design features, but, also to the soft elements, human interactions and impeccable service.
Sol's customer service motto was: "Blow away the customer, with every experience and every stay."
Over the decades, service standards were continuously improved and staff were expected to support Sol's vision, to always keep the guest "guessing". Sol believed that: "The challenge is to get people to commit to the idea of blowing the customer away by giving them an experience ahead of what they expect."
In 1995, following the first multi-racial elections, Sol was honoured to be asked by incoming President Nelson Mandela to plan the Presidential Inauguration at Sun City, attended by close to a thousand world leaders, heads of state and VIPs from around the world. The event was tremendously successful and became a world-class showcase for South Africa.
Sol Kerzner formed Trading Cove Associates (TCA) in partnership with the Mohegan Tribe of Connecticut. In 1996, TCA opened the Mohegan Sun Casino in Uncasville, adding 1,200 rooms, numerous amenities and upgrades in subsequent phases. Mohegan Sun Casino is one of the largest and most successful Integrated Resorts in the world. Although TCA relinquished management in 2002, Sol continued to receive 5% of gross revenues up until 2014.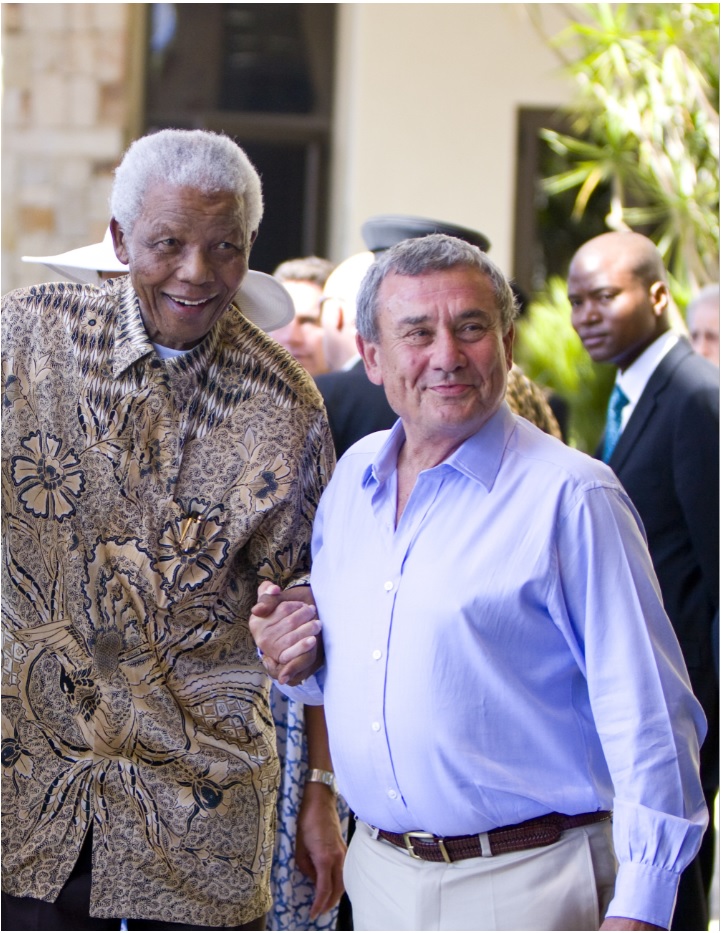 Image: Nelson Mandela and Sol Kerzner
In 2002 Sol, launched his second Luxury collection the One&Only Group of Resorts. The brand was developed with his son "Butch" and is a collection of small scale, ultra-luxury resort properties in idyllic locations around the world. The One&Only Group is comprised of one-of-a-kind luxury resorts including: the One&Only Cape Town - South Africa, Palmira, Los Cabos - Mexico, Wolgan Valley – Australia, Royal Mirage & The Palm - Dubai, Le Saint Geran - Maurutius, Nyungwe House - Rwanda, and the Reethi Rah in the Maldives. Three additional One&Only Resorts are currently in development. Sol Kerzner's touch is evident as the collection has won international recognition for outstanding design, superb service and unique locations.
In 2005, Kerzner International fell into serious financial difficulty. Sol decided to delist from the New York Stock exchange at a cost of $3.6 billion, sell two One&Only Resorts and the Atlantis in the Bahamas to the Brookfield Group. This, along with the 5% of Gross Revenue from Mohegan Sun up to the end of 2014, helped them weather the storm and gave the company a footing from which to bounce back over the coming years.
Atlantis, Paradise Island in the Bahamas was expanded in 2007 with the addition of The Cove and The Reef (1,100 rooms), and numerous restaurants by celebrity chefs such as Jean-George and Nobu, plus 21 retail outlets.
Sol extended the Atlantis brand in September 2008, with a $1.5 billion joint-venture with Dubai based Istithmar World, by opening the spectacular, 1,539 room, seven-hectare water park, water-themed resort development, the Atlantis The Palm, on Palm Jumeirah, Dubai. Sol spent $20 million on the opening event, which included performances by Michael Jackson, Stevie Wonder and Natalie Cole and a fireworks display by the creators of the Beijing Olympic Opening Ceremony.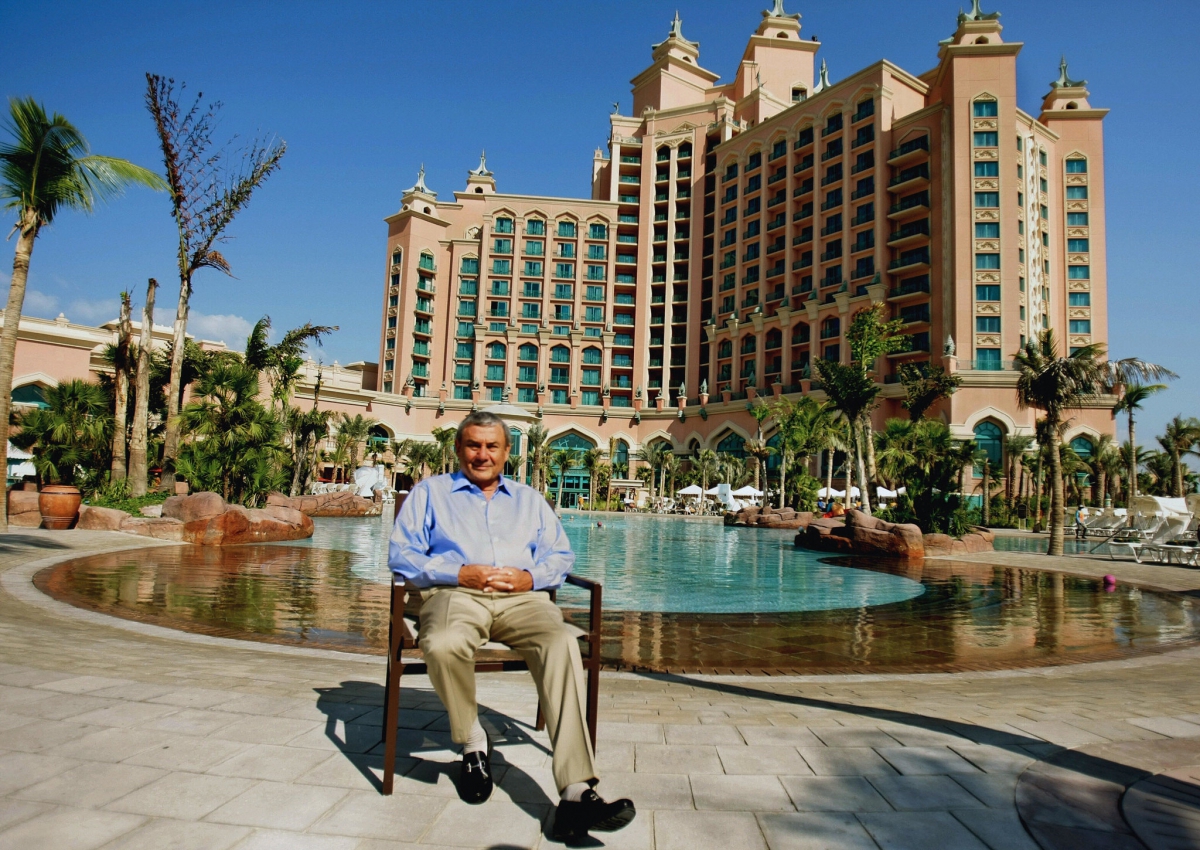 Sol opened the $128 million, Six Star One&Only Capetown, V&A Waterfront in 2009, six months ahead of schedule, to accommodate Soccer World Cup arrivals. Sol also opened the luxurious Mazagan Beach Resort in El Jadida, Morocco in September 2009.
The Atlantis Sanya is considered to be Sol Kerzner's final major contribution to the hotel and casino resort industry before he retired in 2014. Kerzner International in partnership with the largest privately owned resort company in China, Fosun International developed the Atlantis Sanya, on Hainan Island, in the South China Sea. The property opened in April, 2018 and features 1,314 rooms and 54 suites rooms, 7 of which are under water, a 200,000 sqm Aquaventure water park which covers 62 hectares, has 21 restaurants, bars and cafes, a 5,000 sqm MICE facility and is reputed to have cost approximately US$1.63 billion.
Sol Kerzner experienced his fair share of controversy in his life. In the 80's Sol allegedly made arrangements with the Minister of Finance to obtain preferential tax breaks that helped ensure that Sun International paid virtually no taxes and received part of the taxes paid by visiting entertainers. In 1990, Sol was accused of paying bribes in return for gaming licences, in a case which was eventually dropped. In 1997 Sol successfully banned the publication of his Unauthorised Biography which contained sections that he wanted cut out.
Sol Kerzner received countless awards and accolades from around the world during his long life and career. In 2010, Sol was invested with the insignia of Knight Commander of the Most Distinguished Order of St. Michael and St. George (KCMG) for his outstanding and exemplary contribution in the area of business and community in the Bahamas by her Majesty Queen Elizebeth II. He received the Lifetime Achievement Award from the International Hotel Investment Forum (IHIF) in 2019, ILTM UltraTravel Lifetime Achievement Award for his life-long service and dedication to international travel, Variety Club Lifetime Achievement Award, Cornell Hospitality Innovator Award and the HSMAI Lifetime Achievement award for his contributions to advertising and marketing in the Hospitality Industry. Sol was also lauded for his humanitarian achievements with a Lifetime Achievement Award from The Variety Club Children's Charity in London, for raising 200 million pounds for sick, disabled and disadvantaged children. Forbes Africa nicknamed him "The Five-Star Millionaire." In 2010, Sol said: "I am truly honoured by these recent accolades. I would not be here today without the hard work and dedication of our people around the world. While I feel proud of all we have accomplished, there is still much more work to be done and we look forward to reinventing the hospitality experience yet again in the next decade."
Sol Kerzner's personal life was as interesting and varied as his business life. He had four wives, Maureen Adler, Shirley Bestbier (1970-78), Angeline Kriel (1980-1985 former Miss South Africa and Miss World) and Heather Murphy (2000-2011). Sol had three children with Maureen; Howard "Butch" Kerzner, Andrea Kerzner and Beverly Kerzner Mace. Sol had two additional children with Shirley; Brandon Kerzner and Chantal Kerzner Sweeney. Shirley sadly took her own life shortly after the birth of Chantal in 1978. It is said that Sol never got over her death. Sol's marriage to Angeline Kriel, Miss South Africa 1974 and Miss World (after winning Miss World she stepped down suddenly), ended in divorce after 5 years. In the 90's, Sol got engaged to the model Christina Estrada but they never married. Sol called off his engagement to Christina, and instead decided to marry her best friend Heather Murphy, a model, in 2000, but they too called it quits in 2011. When asked if there was anything that he felt that he failed at in life, Sol responded: "Yes, marriage." As one of his wives once explained, he put his business before his marriage.
Sol was known for his opulent millionaire, jet-setting lifestyle, owning extravagant estates, luxury cars, and holding the most outrageously expensive, lavish and glamorous events. Sol believed in enjoying every day and believed that you get out of life just as much as you put into it. Despite his extravagant lifestyle and celebrity status, Sol was a surprisingly private person. He was a proud, doting father and grandfather to 10 grandchildren who always made time for family. Sol's family said: "Sol always remained an intensely family-oriented person." His daughter Andrea said: "Dad taught us family values – no matter how busy he was, he always made time for us, his family. He would take a call from anyone of us in the middle of an important meeting or fly half-way across the world to get to a grandchild's birthday party. For Dad, his family were everything, his joy."
His son and presumptive heir, Howard "Butch" Kerzner, who took over as Chief Executive of Kerzner International in 2003, tragically died at 42, in a helicopter accident near Puerto Plata in the Dominican Republic on October 11th, 2006. Butch was surveying potential sites for resort development. Butch, a Stanford MBA, made significant contributions to the expansion of Kerzner International, by developing the One&Only Brand, leading the $1 billion expansion of Atlantis in the Bahamas, and the initial development planning for the Atlantis Dubai. Butch was survived by his wife Vanessa, and their two children Tai and Kailin. Butch's death was a devastating blow and left a huge void in Sol's life.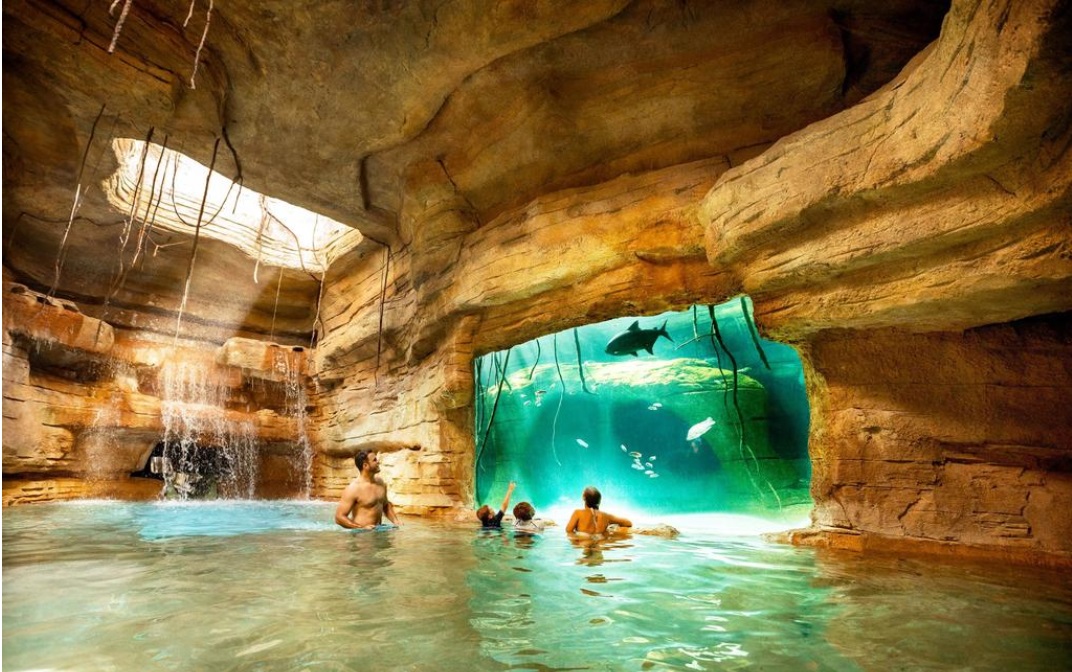 Sol involved his children in the business world from a young age. His remaining children have continued their father's legacy and have become very successful in their own professions and personal pursuits. Sol's daughter Andrea runs the charity Lalela, which brings the arts to at-risk children in South Africa.
Sol Kerzner has been described as a visionary, trail blazer, impresario, icon, rain-maker, game changer and maverick. He had uncompromising vision, incredible drive, confidence, determination and amazing courage. Sol was known as an intuitive entrepreneur, with sharp business acumen, who never chased the money and had a "go big or go home" attitude. Sol was known for his brash outbursts, he had a fierce temper, a tenacious fighting spirit and grit, but, those who knew him well attest that at least you always knew where you stood with him. According to Sol's close family and friends, he also had a great sense of humour, was a good friend, who would share his astute knowledge and impeccable advice, but, few people ever knew that he had a softer side.
Sol surrounded himself with excellence and creativity. It is said that his currency was dedication, enthusiasm and commitment, coupled with an incisive mind, constantly scanning the horizon for new, audacious, innovative ideas and opportunities, and ever at the ready with fast judgement and decision. Sol's recipe for success was: "You take a chance, calculate the odds, research the international market properly, establish the Southern Africans' (customers) taste, style, appetite and enjoyment, aim at giving them a good time at the best quality that they can afford – then go for it!"
And when times were tough and difficult situations arose, Sol loved to say: "Box on."
Sol Kerzner had a life filled with triumph and tragedy and he built a legacy from humble beginnings.
He left an indelible mark on the global hospitality and gaming industry. Over six decades Sol Kerzner founded and built three of the most successful hotel and casino companies in the world; Southern Sun Hotels, Sun International and Kerzner International. Sol built a global empire and opened over 80 hotels, casinos and resorts in 12 countries, in idyllic locations and reinvented luxury travel. He built a dynasty of hotels that were unapologetically ahead of their time and reflected his taste for opulence, style and glamour. He developed the iconic Atlantis and One&Only luxury brands. During his career Sol Kerzner held the positions of Chairman - World Leisure Group (1989-94); Founder, Chairman (1993-96) and CEO (1996-2003) – Kerzner International Holdings Limited; Owner Paradise island, Bahamas; Owner The Palace Hotel; Founder Southern Sun Hotels; Owner Le Saint Geran, Mauritius; Founder Sun International, SA, Developer Sun City, SA. Sol Kerzner played a fundamental role in the development of the tourism industry in Africa, Bahamas, Dubai, Mauritius, China and in many other iconic locations around the world. Sol never chased the money, but, along the way he accumulated an estimated net worth of US$600 million. Sol Kerzner, you will be greatly missed, but his legacy will live on. Sol Kerzner has left a path and an intricately detailed template for the next generation of hospitality and gaming visionaries to emulate and to build upon. His contributions will be extremely difficult to match, but, he will, no doubt, be cheering future pioneers on from above, with his favourite words of encouragement; "Box On."
Niall Murray is the Chairman of Murray International, a Strategic Development company serving the tourism, hospitality and gaming industries, specialising in integrated resorts, hotels and casinos, with a focus on strategic and operations development, the pre-opening/opening process and performance optimisation.
Niall is actively working on a number of projects including the development of the Integrated Resort (IR) Industry in Japan. Niall presented recommendations to the National Diet and provided advisory services to both public and private entities in the prefectures of Tokyo, Yokohama, Osaka, Wakayama and Sasebo on best practices in the development Japan's IR and MICE industries.
Niall has over 30 years of international experience in developing and leading the implementation of the pre-opening/opening process, operations development, guest service standards, operating procedures, HR processes, training & development programs, exceptional work environments and post-opening performance optimisation processes for several of the world's most successful Integrated Resorts. Niall has held Strategic Development Consulting and Senior Executive roles with: MGM Cotai & MGM Macau; SJM's Grand Lisboa, Ponte 16, Oceanus, L'Arc, & Grand Lisboa Palace in Macau; The Venetian, Four Seasons, Sands Cotai Central & Sands in Macau; Shun Tak Hong Kong; The Venetian & Caesars Palace in Las Vegas; Four Seasons, Ritz-Carlton & Omni Hotels in New York; Sheraton Hotels in Canada; and the Disneyland Resort in Paris.
Niall graduated from from Trinity College Dublin with a B.Sc. in Management, holds Higher qualifications in Hotel, Restaurant & Catering Management and has completed studies for an MBA in International Management from the University of London & Hong Kong University. He is a member of the the Institute of Management Consultants, the Project Management Institute, American Society of Training and Development and is a Senior Professional in HRM with the Society of Human Resource Management. Niall is an experienced strategic consultant, writer, executive coach, trainer and public speaker. Niall has been a keynote speaker and panel contributor at the Integrated Resort Conference, Top Hotel Projects, Global Gaming Expo (G2E), Gaming Executive Forum, the Japan Gaming Congress and has appeared on RTÉ and TDM TV. Niall has contributed to Casino Life, Inside Asia Gaming, Global Gaming Review, Irish Times, Macau Daily and Macau Business Magazine.
If you are interested in designing, developing, opening or optimising an Integrated Resort please contact Murray International.
Niall Sean Murray - Chairman
MURRAY INTERNATIONAL (Macau) Co. Ltd.
E-mail: Niall@MurrayInternationalGroup.com
Mobile: +853 6613 8133