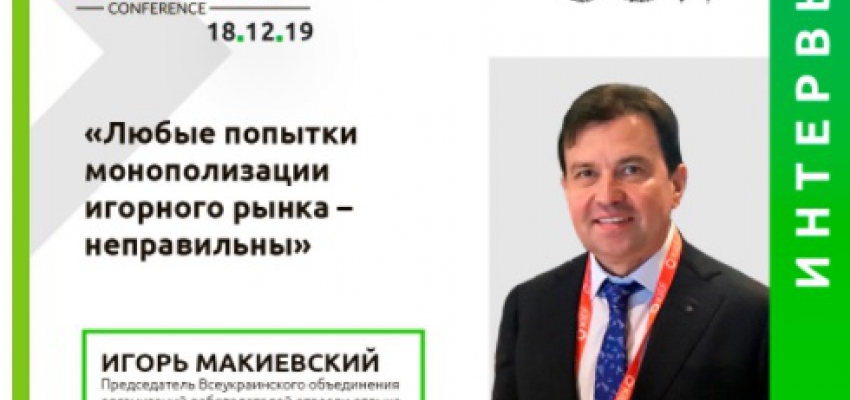 What tasks should the gambling legalization bill perform? Why does the gambling market need a transition period? Why should the legislative process be public? These issues are revealed by Ihor Makiievskyi, Head at All-Ukrainian Association of Employers in the Recreation and Entertainment Sector, in an interview with Kyiv iGaming Affiliate Conference.
Ihor Makiievskyi is a member of the working group aimed at gambling business legalization at the Verkhovna Rada Committee on Finance, Taxation and Customs Policy. He is also a council member of the Federation of Employers of Ukraine and a representative of gambling market employers in the dialogue with the Cabinet of Ministers of Ukraine.
Ihor gave the interview at KiAC and shared his opinion about the legislative process of gambling business legalization.
Interviewer: Kyiv iGaming Affiliate Conference (KiAC)
Respondent: Ihor Makiievskyi (I. M.)
KiAC: Tell us about the discussion of gambling legalization bills at working group meetings.
I. M.: We have been discussing eight bills on gambling business legalization for three months. A working group meeting consists of the exchange of views or gambling business dialogues. So few constructive proposals. We do not talk about a certain bill or particular amendments. We do not move on any articles or regulations.
MPs announced the establishment of subgroups for elaborating different types of gambling businesses, e.g. casinos, betting shops, slot machine halls. This is as it should be. Unfortunately, these subgroups were not created. We do not know who makes a final decision there. It is actually bad, as everything is in keeping with the worst lawmaking traditions.
KiAC: Do you think the law adoption process should be public?
I. M.: We believe that the legalization process should be public. Regulations should be publicly reasoned. This information should be publicly available. It cannot be approved behind the scenes; otherwise, it would be lobbying. It is what we can see now.
There are eight bills, but the corresponding committee of the Verkhovna Rada is holding a meeting today in order to review the updated draft bill. No one has seen its text, at least in the public spotlight, but it is already discussed at the committee and will be submitted to the Verkhovna Rada for the first reading tomorrow.
KiAC: How do you see the best possible bill on gambling business legalization?
I. M.: We think that the bill should be prepared responsibly. It has to be a kind of impetus and should define economical points of increase that can be and should be encouraged by gambling businesses.
The bill should take into account the interests of the Ukrainian economy, local manufacturers, or operators. It is necessary to gain a maximum effect of legalization, activate production chains, and create new jobs. Ukraine should not be just a sales market, for instance, of slot machines by foreign manufacturers. Legalization should also lead to new corresponding economic branches, in particular, the IT cluster. All of these aspects should be stipulated in the bill.
KiAC: Do you think gambling legalization will encourage investment raising in the country?
I. M.: I would like to mention that it was initially about establishing a tourist and gambling cluster at the Black Sea coast. However, none of the bills specify these gambling zones or tourist cluster zones that would really attract external and internal investors.
All countries in the neighbor of Ukraine, from Bulgaria to Russia and Georgia, permit gambling activities. This country forbids gambling businesses. Ukraine should logically offer up-to-date legislation designed to attract investors and make gambling operations within the country more beneficial than in Georgia or Belarus. Therefore, investors would realize the advantages of Ukrainian legislation and put money into this country. To implement the idea, one has to assess and seamlessly emphasize all the details in the bill.
Unfortunately, the actual legislative process is in the sidelines. We do not know who makes decisions there and what provisions are prescribed. The dialog with businesspeople is just a formality. That's wrong.
The previous authorities tried to legalize the gambling market in the same way and failed. Our opinion is the following: the legislative process and law adoption should be entirely public and reasoned by all participants. It should be a balance or a compromise among the state, entrepreneurs, and consumers, taking into account the requests of all parties.
KiAC: What main tasks should the gambling regulation law perform?
I. M.: The legalization law should fulfill several objectives. The first one: to get the industry from the shadows. The budget should obtain the greatest payments. Besides, it is referred to both state and local budgets. As far as I understand, local budget interests are missed in all bills. Local communities also should be engaged and receive a part of gambling charges.
The bill should provide transparent and clear conditions for gambling operations. The market should not be monopolized. Moreover, we should prevent prerequisites for any corrupted schemes.
KiAC: In your opinion, can the establishment of the gambling committee cause corruption risks?
I. M.: There are a lot of debates on the gambling committee prescribed by the bill. Its establishment is accompanied by huge corruption risks, as the committee will be responsible for licensing matters. It will have to determine which of the operators comply with the licensing and other terms and which of them do not. At the same time, many norms are even absent. The committee will have to develop them. By the way, these regulations should be unveiled before the gambling market introduction.
KiAC: How much time will be needed for the Ukrainian gambling market to start functioning in accordance with the new legislation?
I. M.: A transition period is a crucial aspect. Currently, the gambling market is existing based on Ukraine's law on lotteries. This law is non-perfect. It contains provisions requiring additional corrections.
Thus, we suggest that the transition period will take at least a year. The market has to examine the new law and understand who can stay in this business and who will change the format. It takes time to complete all of these tasks.
As of January 1, 2020, the government is not ready for gambling legalization because the law is absent. There is no committee to specify subordinate acts for the gambling market. There is no online monitoring system for financial flow control. One has to elaborate the given elements, which also requires some time.
We think that a year is enough to adjust the Ukrainian gambling market.
KiAC: Nowadays, thousands of people are engaged in the shadow gambling market. Will gambling legalization reduce the number of jobs?
I. M.: According to our data, the industry involves about 50,000 employees. Suddenly firing them or closing the market with the dismissal of employees is not a government approach. Such a position is improper because each job is worth gold. Destroying everything down to rock bottom is not a good idea. Our history has already experienced this practice. That is why jobs should be saved.
KiAC: What do you think about the gambling market entry threshold?
I. M.: I can speak conceptually regarding this issue. Any attempts to monopolize the gambling market are wrong. It is necessary to create a competitive environment. The entry threshold should be high in this business. Nevertheless, the cost of licenses should be economically viable, fair, and adequate for middle-sized companies.
KiAC: Please share your impressions about KiAC.
I. M.: I got a positive impression about the conference. Similar events dedicated to gambling legalization are definitely essential. There is a lack of them. Industry players, as well as the authorities, should have taken care of such events a long time ago in order to explain their attitude.
The lawmaking process should be publicly available, providing an opportunity for asking questions and receiving answers. It can be implemented only at such public events or discussions.
We express our gratitude to organizers for responding to the market demands promptly and on time.
---
On December 18, Ihor Makiievskyi took part in the panel discussion at KiAC. Together with other experts, he discussed bills on gambling market regulation and analyzed legalization possibilities for businesses and the local economy in general.
The round table results can be found here >>>